May 29 2021
The greatest inter-generational injustice ever inflicted by one generation of humans upon the next
In a landmark judgment, the Federal Court found the environment minister has a duty of care to young people, as reported in the Conversation.
It is remarkable that this was a matter for debate.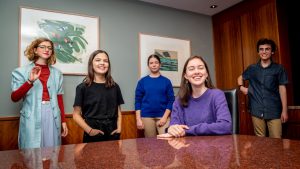 The court found that
one million of today's Australian children are expected to be hospitalised because of a heat-stress episode, that substantial economic loss will be experienced, and that the Great Barrier Reef and most of Australia's eucalypt forest won't exist when they grow up.
Justice Bromberg said in his judgement:
It is difficult to characterise in a single phrase the devastation that the plausible evidence presented in this proceeding forecasts for the children. As Australian adults know their country, Australia will be lost and the world as we know it gone as well.

The physical environment will be harsher, far more extreme and devastatingly brutal when angry. As for the human experience – quality of life, opportunities to partake in nature's treasures, the capacity to grow and prosper – all will be greatly diminished.

Lives will be cut short. Trauma will be far more common and good health harder to hold and maintain.

None of this will be the fault of nature itself. It will largely be inflicted by the inaction of this generation of adults, in what might fairly be described as the greatest inter-generational injustice ever inflicted by one generation of humans upon the next.

To say that the children are vulnerable is to understate their predicament.
What I Learnt On 29th May in other years
29th May 2020

Dustyesky – songs of struggle from the tundra of Mullumgrad
29th May 2011
Postcards from Ireland